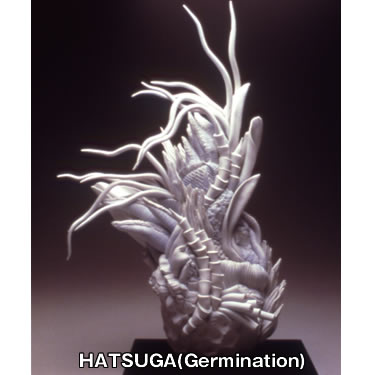 Kyoko Tokumaru
―and plants emerged, brimming with life―
"I search through the rubbish and when find something interesting I save it, often taking a plaster cast.
However, I do not simply use the items taken from the castes just as they are; I feel I have to manipulate them with my own hands before they become a part of my work. If I were to use them just as they are the effect would resemble a collage, which I feel is a bit different."
'Ceramic Cosmic Plants; Kyoko Tokumaru,Pottery, New Sensations Serise: 50 OBJECTS, 1999-2005 published by INAX, 2005.
Tokumaru gives her exhibits titles like 'Germination' , 'Sprout' , and 'Blossoms' , as though the works themselves are new plants, imbued with a life of their own. There is indeed a force in her pieces―a kind of dynamic energy with which various parts seem to come together and grow towards the light. The artist says that deep inside her is an intensity which has to be converted into art. It is this that brings the vitality to Tokumaru' s work.
70: HANAZAKARI(Bloom) 
71: HATSUGA(Germination)