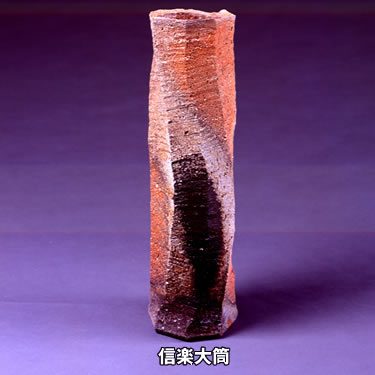 Kiyoko Koyama
What are the colours of natural glaze?
The green of the Shigaraki mountains; the azure blue of the Daido River.
"I dig my clay out of the mountains of Shigaraki and dry the raw clay in the open air for quite a few day. Then I remove the many stones in the clay. knead it , and leave it to mature for a number of years. Although I like to maintain a flavour of Kamakura and Muromachi-period pottery, my forms are always new and original. Firing is carried out in the traditional way, leaving the pieces in the Kiln for about two weeks. For fuel I use large quantities of various woods including pine ,chestnut and oak. I do not add a single drop of glaze. The pots are fired until the last possible moment when they are about to crumble in the heat; this long confrontation with the flames is a battle of strength and willpower."
From 'My Natural Glazes 'by Kiyoko Koyama
1. Reference:' I Love Pottery ' Kiyoko Koyama ,Kokoku to Bunka(The Lake Country and its Culture)vol.40(1987).
Natural glaze :the natural effects of wood-ash settling on the pots during firing.
7: Shigaraki Large Cylinder 
8: Shigaraki Large Cylinder with Faced Design,"HUN"
9: Shigaraki Vessel with Faced Design