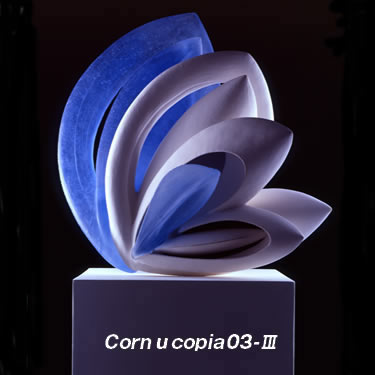 Etsuko  Tashima
Creating a pure luminous space by combining modern white pottery and pale coloured glass
A ceramic pot, although it may be hollow, is completely impermeable to light. Glass (1)on the other hand, is a material which invites ones gaze steadily inwards to its core, and ultimately seems to draw in the light. Tashima combines these two media with their opposing characteristics to crate new forms. At the edges of the pale, delicately glazed pottery she makes a point of revealing the ground to assert its identity as clay. She speaks of her chosen subject of plants as follows: "Plants have beautifully regular and ordered geometrical forms. Rather than finding this strange I feel a sort of admiration."(2) In her search for beautiful forms Tashima combines clay with new materials in an attempt to express the infinite wonder of plants.
The term 'comucopia' refers to fruitful and abundant living things.
(1). Tashima uses the kiln-formed pate de verre technique to produce her glassware.
(2). from 'Discoveries in a Creative Space'; panel discussion sponsored by the Study Group for Education in Arts and Crafts, Session-Universities and the Applied Arts, 2000.
77: Cornucopia 97―Ⅲ
78: Cornucopia04―Y'Ⅳ  
79: Cornucopia03―Ⅲ
80: Cornucopia 00―Ⅷ   
81: Cornucopia 02―Ⅳ